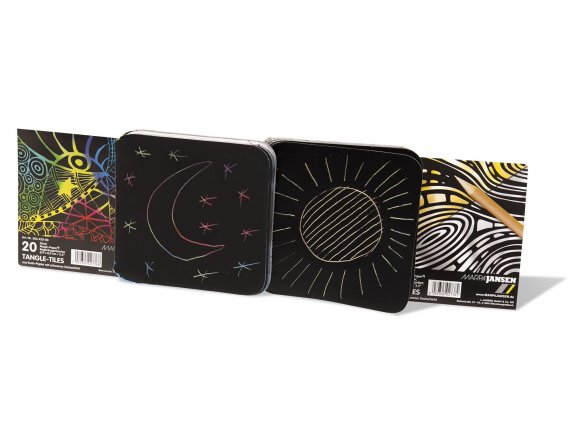 "Tangle tiles with no painting required"
for scratch art pictures
rainbow coloured or single-colour metallic'
Material

Magic-Paper scratch art paper

Dimensions

89 x 89 mm

Surface

smooth

Colour

rainbow coloured or monochrome, metallic, black cover layer

Configuration

stamped, round corners

Amount

20 sheets

Packaging

foil packaging
Zentangle is an easy to learn method of creating beautiful images from repetitive patterns. It was created by Rick Roberts and Maria Thomas as a way to relieve big-city stress while increasing the ability to concentrate.
Normally there are cards for this upon which you are to draw or paint repetive abstract patterns but there is also a "paint-free" version as well: Tangle Tiles made from scratch board whereby coloured paper is covered with a black layer which can be "scratched" off in order to make any picture, pattern or words you want. For this artistic work it is best to use wooden rods that are sharpened to a point (which can be ordered separately under WOODEN RODS FOR MAGIC PAPER).
Please note that in a set of 20 rainbow coloured boards there will be duplicates and in the set of metallic paper there will be 10 gold and 10 silver ones.
Tangle tiles made of Magic Paper, 89 x 89 mm, scratch board, rainbow, 20 sheets