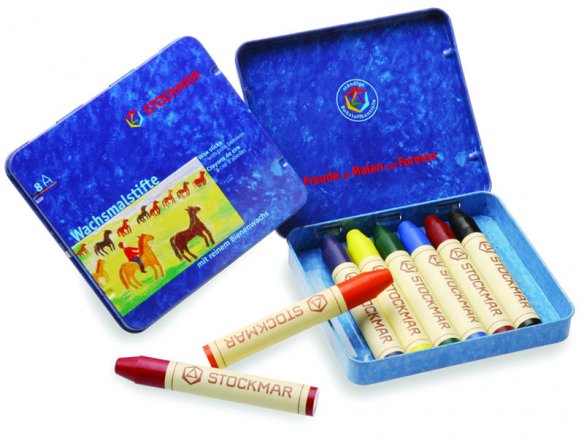 diameter is 12 mm, l = 83 mm, richly pigmented, lightfast, waterproof; binder is pure beeswax, conforms to the European safety norm EN 71 (toy safety – see Information), the metal cases include a scraper, for the assortment of colours in the different sets see Information
Who isn't familiar with these? The Stockmar wax crayons can´t help but bring back childhood memories of some kind or other! And if alone their appearance, or that of the renowned tin case in which the crayons come, is not enough to jog your memory, then the smell that emanates from the opened case must finally do the trick and bring forth memories buried deep in your unconscious.
The Stockmar wax crayons, however, are not only good for a feeling of well-being but also are able to satisfy the highest of artistic demands.
Through the addition of pure beeswax as a binding agent, the lightfast colour pigments are able to show themselves in all their purity and brilliance. The natural transparency of this type of wax, along with forgoing the use of fillers, produces the capability to form a glaze in a way usually only achieved with aquarelle paints. Wax being the binder in the crayons extends the range of potential drawing and painting techniques to a great extent.
The crayons are not limited to merely drawing and painting but can also be used for layering, scraping and melting colours. These crayons can be applied to smooth as well as rough drawing paper surfaces. The smoother the paper, the more cohesive the colour application; the grainier the paper, the less rigid the appearance of the colour will be. Especially interesting effects can be attained on, for example, coloured paper (COLOURED DRAWING PAPER, WRAPPING PAPER) or PARCHMENT PAPER or even on JAPANESE PAPER. Stockmar wax crayons will, it should be noted, also adhere to other surfaces like, for example, wood, textiles, glass, cellophane and a number of plastics.
Stockmar products are all environmentally friendly and safe for human health. The Stockmar seal "Ständige Rohstoffkontrolle" (Constant Monitoring of Raw Materials) means that Stockmar has required that every product batch be investigated by an independent laboratory. Because the pollution thresholds for writing utensils, paints and clays that are set out in the EN71 safety norm are not stringent enough for the Stockmar company, it demands of its own production processes that they instead conform to the norms that apply to food safety, norms that are much more demanding than those for the toy safety mentioned above. And where the food safety standards fail to set a threshold, Stockmar initiates its own strict norms.
Set name
List of Colours
small standard assortment, 8 crayons in tin case
carmine red (01), orange (03), lemon yellow (05), green (07), blue (09), blue-violet (11), red-brown (13), black (15)
large standard assortment, 16 crayons in tin case
carmine red (01), cinnabar red (02), orange (03), golden yellow (04), lemon yellow (05), yellow-green (06), green (07), blue-green (08), blue (09), ultramarine blue (10), blue-violet (11), red-violet (12), red-brown (13), yellow-brown (14), black (15), white (16)
small supplementary assortment, 8 crayons in tin

case grey (17), Prussian blue (18), cobalt blue (19), light ochre (20), Venetian red (21), umber (22), olive green (23), rose (24)
Stockmar wax crayon
3 Variants