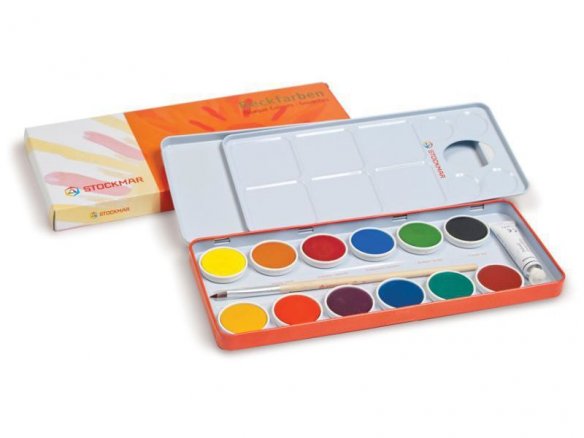 case with 12 opaque paints, opaque white, filbert-shaped brush and removable mixing palette
The Stockmar opaque paint set is a classic group of watercolour paints in a metal case. The metal mixing palette that is also included is detachable, easy to clean and provides a certain amount of flexibility in the way you work. The twelve water soluble paints each come in their own removable cup and have a high percentage of colour pigments, which accounts for the paints having outstandingly brilliant colours. 
Along with a tube of opaque white there is also a brush made from Ponex hair with a FSC certified wooden handle. Aside from paper, the paint can also be used on cardboard, wood, and glass. It is also suitable for various painting techniques like opaque coverage, watercolour painting and glazing effects.
Stockmar products are environmentally friendly and non-hazardous to health. The Stockmar seal ("Ständige Rohstoffkontrolle" = continual monitoriing of raw materials) means that every batch of their products are inspected by an independent laboratory. Because the limit values for pollutants for writing utensils, paints and modelling putties that are set by the European EN71 safety norms are not stringent enough for the Stockmar company, it orients its own production standards to the food safety norms that are much more stringent than the toy safety norms mentioned above. In areas of concern that are not covered by the European food safety norms the Stockmar company establishes its own.
Contents of a set of 12: lemon yellow (05), golden yellow (04), orange (33), vermillion (02), crimson (01), red-violet (12), ultramarine (10), Prussian blue (18), sap green (36), blue-green (08), red-brown (13), black (15) + 1 tube opaque white + 1 filbert brush + detachable mixing palette
Stockmar opaque paint set, set, 12 colours, opaque paint, brush, mixing palet