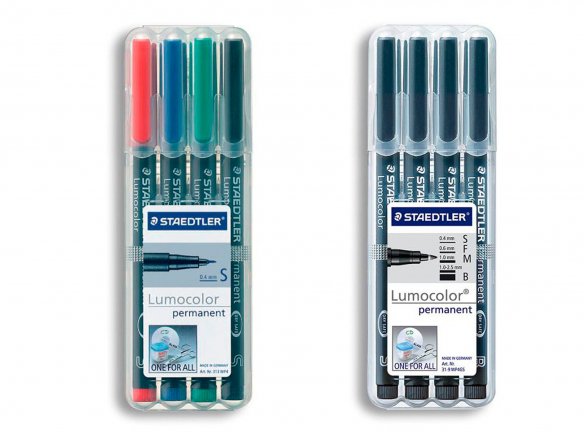 dry-safe ink, waterproof and smudge-resistant, fibre tip, black polypropylene barrel, cap with clip is the colour of the ink
Lumocolor film writers are not only great for writing on overhead films but can also be used on all smooth surfaces upon which normal ink would tend to pearl off. The set of 4 comes in a hard plastic box which has a handle that can be set in such a way that the pens are ready at hand at all times. All Lumocolor film writers can be refilled by means of the refill station.
The permanent universal pens are filled with Dry Safe ink. This special ink – which was developed by the Staedtler company – assures that the pens will not dry out even if left open (uncapped) for a long time (maximum of 2 days!). The permanent ink is great for colouring acrylic glas (e.g. green for a subtle glass effect). When creating this effect, the ink is applied with a cloth.
Staedtler Lumocolor, permanent, set
4 Variants
breit
fein
medium
superfein
4er-Set