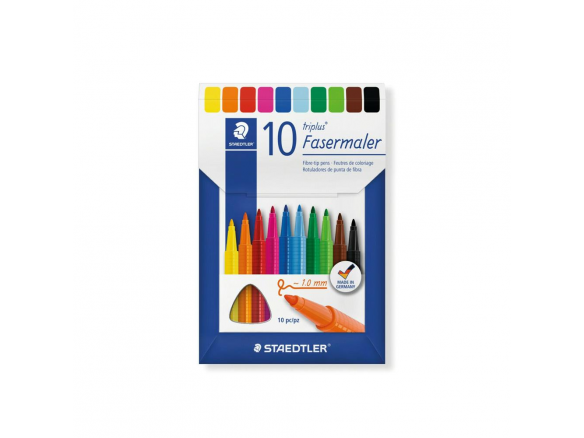 Dry Safe water-based ink, pressure-resistant fibre tip 1.0 mm, ergonomic polypropylene triangular barrel which is the colour of the ink, blue cap with clip
The Triplus color fibre tip pens fit wonderfully into your hand because of their triangular shape and are therefore great for colouring and drawing. 
Because the tip of the fibre pen is pressure-resistant and thereby tends to give (yield), the pens are safe for children to use. Furthermore, the caps have a breathing canal built into them, so if a child should happen to swallow a cap and it then gets stuck in its throat the child can still continue to breathe. The Dry Safe ink assures that even after 2 days of being left open the pens will still not dry out. The water-based ink can be washed out of most fabrics.
Staedtler fibre tip pen, Triplus color, set, set of 26