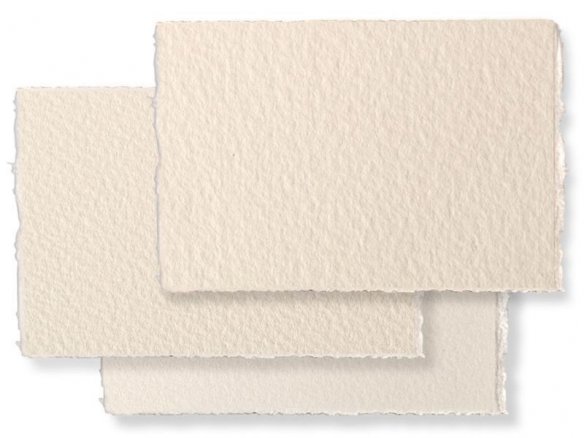 natural white, 100% cotton rag, four real deckle edges, neutral sizing, acid-free (pH is ca. 8.0), extremely lightfast, alkaline buffered, highest degree of aging resistance, with watermark "Saunders Waterford" and quality stamp
The artist papers from the St. Cuthberts paper mill in southern Great Britain are considered to be the most beautiful and highest quality papers in the world. This mould-made board, which we have on offer in various grammatures (weights) and with differently textured surfaces, was made on a traditional cylinder mould machine, which gives the paper its characteristic deckle (ragged) edge like the ones found on real handmade paper. The traditional gelatin sizing, which is added to the batch of the fibre slurry as well as to the finished surface, makes this a very durable watercolour paper that can withstand numerous washings with watercolour paints and is also resilient to rubbing and other rough treatments like erasers or the like on ink or charcoal drawings. Saunders Waterford mould-made paperboard is not only great for use with all watercolour techniques but also for drawing and painting with pastel crayons, ruddle (red ochre), charcoal, lead pencil and ink. In addition, it takes well to screen-printing and offset printing, among other techniques. We carry three versions of this paperboard.
This satin-finished version of this watercolour board has a really smooth and silky matte surface that is especially good for rendering finer details and extremely sharp contrasts. Brilliant colours are particularly noticeable when laser methods are used on it.
The fine-grained (matte) version's surface has a fine, adhering character upon which you can paint with full brush strokes when employing a wet-on-dry painting technique and, when using a wet-on-wet technique, even, gleaming colour gradients. Watercolour papers and boards with matte surfaces are recommended for artists who are interested in fine details.
The course grained (rough) version's surface has an irregular, somewhat course texture that gives a watercolour a more tangible, vivid appearance. If you paint with quick brush strokes on its surface when dry, little white areas will appear in the recesses arising from the coarseness of the paper – a very interesting looking effect for your painting. If the surface, however, is wet before painting, your colours will be intensified in those exact same recesses. Paper with rough surfaces is only recommended for use by practiced watercolour artists.
St. Cuthberts Saunders Waterford mould-made paper
4 Variants