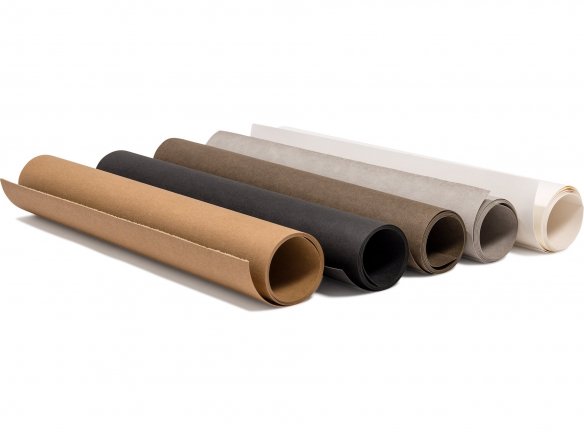 washable and sewable
tearproof
made in Germany
Material

paper with leather look (cellulose with latex core)

Thickness

0,55 mm

Attributes

sewable, machine washable, can be ironed

Surface composition

suitable for painting, plotting, gluing, printing, and more

Colours

comes in 5 colours

Environmental compatibility

devoid of chlorine, PVC and BPA
SnapPap is a sturdy, tearproof and machine washable composite material made of layered paper (cellulose) with a latex core. It takes well to sewing, plotting, gluing, printing (with transfer film), painting, stamping, lasering, ironing, dyeing and, and, and! It is compatible with the environment (free of pentachlorophenol, PVC and BPA) and is food safe to boot! When untreated, its 0.55 mm thickness lends it the appearance and feel of a matte-finished photo board - after being washed, however, it has a leather-like surface structure. SnapPap combines many attributes of paper and cloth, a fact that makes it useful for a variety of projects.
When using it for handicrafts or plotting, printing and gluing work, it is best not to wash it beforehand.
Before sewing it, however, it is indeed best to wash it first (machine wash at 60°C - or better, 40°C - without adding any softeners). This makes it softer and produces the leather look; it can also make it shrink a bit. Drying in a dryer and ironing it (medium to high temperature) is also possible. Up to two layers of the material can be sewn with a standard needle but a leather needle should be used for anything beyond that. SnapPap can also be embroidered and does not require serging because the material will not fray. For lining or for supplementing the material it is best to use strong cotton fabrics.
Painting, stamping or dyeing work can be done with (washable!) fabric paint or textile dyes.
SnapPap paper, leather look, sewable
5 Variants
Accessories and Related Products