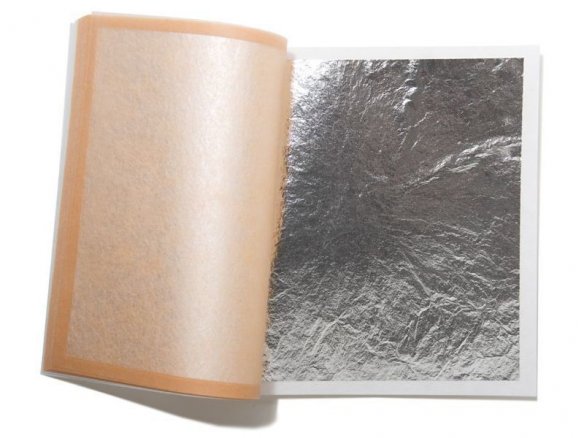 pure silver 1000/1000, shiny, very good quality, th = app. 0.25 µm, loose, with tissue paper intermediate sheets, comes in glassine paper bag
The silver leaf that we have on offer has the highest possible grade of purity, which is 1000/1000. Sterling silver, which is the most used version of silver for jewellery, has, for example, a purity of 925/1000, which means that it is an alloy consisting of 92.5% silver and 7.5% some other metal, usually copper.
Because of its lesser elasticity and expandability, silver cannot be made with the same thinness as gold and, with a measurement of 0,25 µm, is actually more than twice as thick. Because of this, even amateurs can work with silver in a loose form. You must carefully position the silver leaf on the GILDER´S CUSHION, cut it with the GILDING KNIFE into pieces that will fit to the object to be gilded and then place these individually, with the help of a GILDER´S TIP BRUSH, on the surface that has already been prepared with GILDING LIZE or MIXTION.
Because silver will oxidize over time, you should, if this effect is not desired, coat the silver with FINISHING VARNISH. This is true for outdoor as well as indoor areas. For a higher gloss and shine the silver can be burnished by means of AGATE POLISHING STONES before the varnish is applied. One booklet contains enough silver leaf to gild a flat area measuring about 0.15 m. Silver leaf can be used in combination with POWDER SILVER and SHELL SILVER.
Silver leaf, 95 x 95, 25 leaves