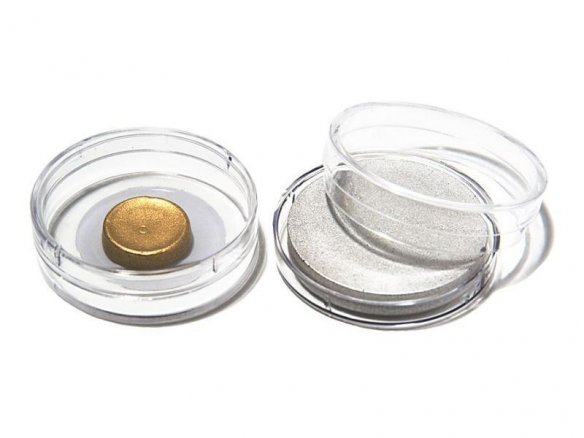 real gold or, as the case may be, silver, shiny, bound with arabic gum, water soluble, comes in plastic container
What does the shell have to do with the gold? In the middle ages there were not really any good alternatives to shell halves for transporting and storing the powder. Even today, shell gold or shell silver can still be purchased in shell halves. We have, however, for practical reasons, chosen re-closable plastic containers for this precious product.
The base material of shell gold/silver is the equivalent of POWDER GOLD/SILVER, but it is intermixed with gum arabicum, which enables it to be used much like the paints in a paintbox and makes the use of a undercoat unnecessary. Applying it with a brush like, for example an AQUARELL BRUSH, SYNTHETIC HAIR, allows it to be used not only for touch up or icon work but for lettering and decorative inscriptions as well.
Because it is water soluble, shell gold and shell silver are not particularly durable, unless, after allowing to dry, ZAPON SPRAY VARNISH is then applied in two or three thin coats. Shell gold can be used in combination with GOLD LEAF and POWDER GOLD when they have the same karat value.
Shell gold/silver
2 Variants