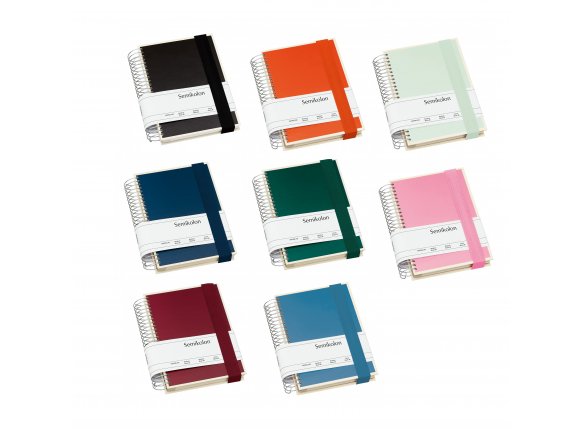 cream white smooth paper in ruled, chequered and blank format (55 sheets each of), 120 g/m², silver spiral binding ø 35 mm, sturdy cardboard cover that is covered with colour printed, matte, film-coated paper, rubber band fastener, two divider sheets with index, two insert sleeves, given dimensions are approximate
Mucho is a thick notebook that contains a whopping 180 pages (Mucho!) and has a large, sturdy spiral binding so that it is easy to open and begin writing. The exterior is covered with colour printed paper that is laminated with a water impervious film. Closing it up securely is accomplished through the power of a rubber band.
Inside it is divided into three sections, each with ruled, chequered and blank writing paper. The sections are divided by two index pages made from transparent plastic. All the pages are perforated so that it is easy to remove them cleanly. The back of the notebook has two transparent pockets into which notes, slips of paper or photos can be gathered.
Please note: upon inquiry, Semikolon products can be customized to your specifications (embossed, printed, etc.). Further information can be found under the heading YOUR LOGO ON MODULOR PRODUCTS.
Semikolon spiral notebook Mucho
3 Variants