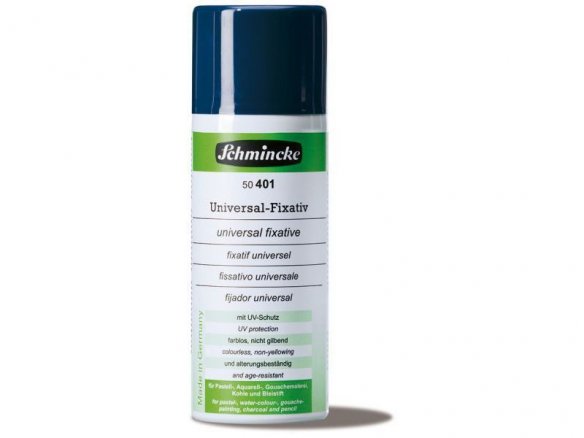 spray fixative with UV absorber for watercolour and gouache paintings, pastel chalks, charcoal, pencil, made of polyvinyl resin and alcohol, colourless and semi-gloss when dry, non-yellowing, age-resistant
Description
Hazard warnings
Schmincke Universal fixative is alcohol-based and can be used as a final fixative for watercolour and gouache painting as well as for dry-technique artwork using pastel chalks, charcoal and pencil. Ink-jet prints, art prints and photographs round out the use categories. When used as an intermediate fixative for charcoal and pencil it can be painted over with oil paint.
Danger, ethanol = 25 - 50 %, n-butyl acetate = 5 - 10 %, 4-hydroxy-4-methylpentan-2-one = 2,5 - 5,0 %, derivate of Benzotriazol = < 0,5 %, butanone = < 0,5 %, dimethyl ether = 10 - 30 %, (VOC-Gehalt = 93,5 %), Flam. Aerosol 1
Hazard warnings
H222: Extremely flammable aerosol.
H229: Pressurised container: May burst if heated.
Safety instructions
P102: Keep out of reach of children.
P210: Keep away from heat, hot surfaces, sparks, open flames and other ignition sources. No smoking.
P211: Do not spray on an open flame or other ignition source.
P251: Do not pierce or burn, aven after use.
P410+P412: Protect from sunlight. Do not expose to temperatures exceeding 50°C / 122°F.
Downloads
Schmincke universal fixative (Aerospray), spray can, 400 ml