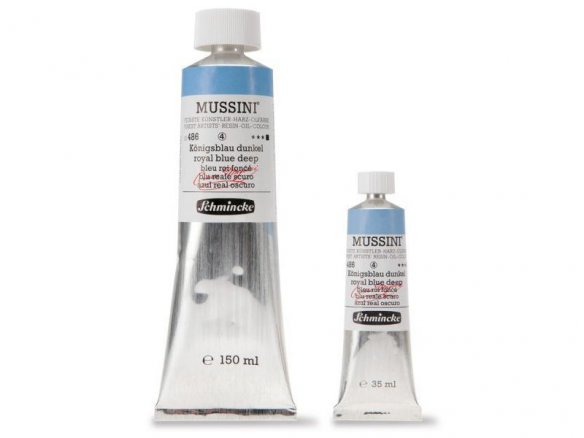 top-quality artist resin-oil paints, plant-based oils, natural resin (dammar resin) and artist pigments in the highest concentrations, pasty consistency, from high to the highest lightfastness (non-fading) depending on the pigment, dries harmoniously, hazard substance labeling per GefStoffV not required
Smincke´s Mussine oil paints are especially fine and unusually bright artist colours that not only have the highest possible pigment concentration and come in a pure form but are also distinguished by a special binding agent composition that is based on plant oils and natural resin.
This combination of selected painting oils and the best Indonesian dammar natural resin creates a uniquely bright colouration with a conspicuous impression of depth because the natural resin portion reduces the long-term tendency of the fatty oils to "yellow" and improves the deep drying process and the refractive properties of the paint.
The most important feature of Mussini resin-oil paints when compared to oil paints without resin is its even and harmonious drying process that produces coats that are surface-tension free and durable. The oil portion dries by taking up oxygen on the surface, which increases its volume, but this is compensated by the solvent content in the dammar solution which evaporates from inside - which means that there is no surface tension produced and the drying process is even and harmonious. This, in turn, is a guarantee for a long-lasting oil painting! 
It is worth mentioning that the Mussini resin-oil paints were the foundation for the founding of the firm Schmincke & Co at the end of the 19th century: In 1881, after searching for traditional high quality recipes for artist´s oils, Josef Horadam und Hermann Schmincke, who were affiliated through their wives, found the old master´s recipe for artist oils that had been developed by the artist and professor Cesare Mussini at the Florence Academy. Resin-oils had fallen out of favour until the invention of the tube container because they, in contrast to the more widely used "normal" oils, were so difficult to transport and store without such a sturdy container. Schmincke and Horadam purchased the recipes, developed them further, and made sure that the resin-oil paints were put into tubes and made available for universal use from that point on.
Schmincke Mussini Oil Paint
140 Variants
Note
Please note that artist paints can be differently priced even within product groups because of the different costs of the raw materials involved in the production of the various colours.