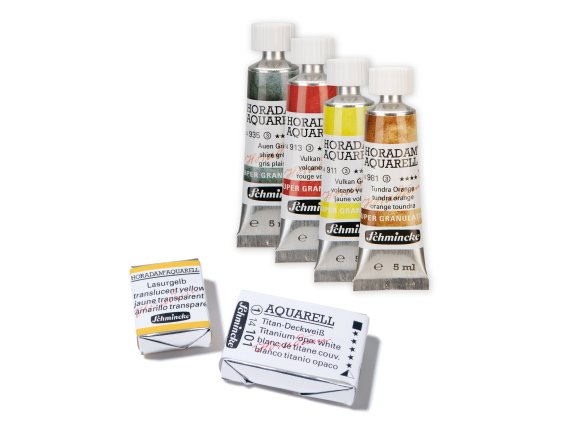 water-soluble aquarelle paints made with pigments, Kordofan gum arabic and oxgall, solid, poured into pans in a liquid state 4 times, high to conditional lightfastness (non-fading), glazing to opaque coverage (depending on the pigment), hazardous material label not required according to GefStoffV rules, comes in half jars and large jars
Horadam by Schmincke is a solid watercolour paint available in 110 brilliant, harmoniously coordinated shades (72 of which are single-pigment shades). The paint impresses with its good solubility (even after drying on the palette) and with its optimal colour release (for a constantly controllable colour gradient even on soft watercolour papers).
The covering power of a pigmented paint depends on its layer thickness and the pigment used. With Horadam, the scale ranges from transparent (e.g. glaze yellow) to opaque (e.g. vermilion). Although the paint is relatively lightfast (depending on the pigment), watercolour paintings should not be permanently exposed to direct sunlight because of the mostly fine and light-sensitive colour application. In order to avoid a too strong colour change in the course of time, works can be provided with a UV-protective varnish.
Horadam Watercolour paints can be mixed or combined with SCHMINCKE AKADEMIE AQUARELLFARBE as well as with SCHMINCKE HILFSMITTEL F. AQUARELL.
Schmincke Horadam aquarelle paint, white/yellow hues
476 Variants
Note
Please note that artist paints can have different prices even within a specific product group because of the different prices for the respective raw materials.