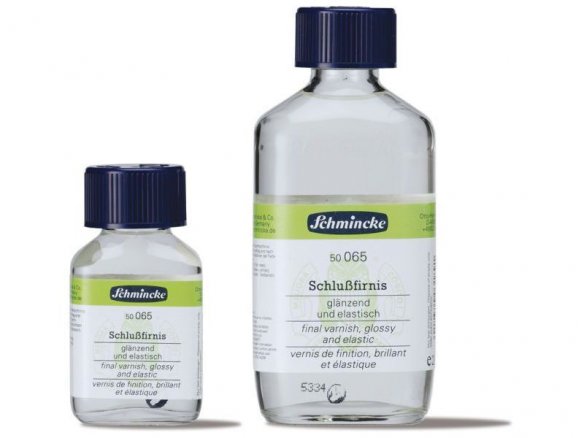 finish varnish for oil paintings, synthetic resin based with stand oil additive, liquid, clear yellowish, colourless glossy and elastic when dry, non-yellowing
Description
Hazard warnings
To ensure that works of art do not lose their brilliance and luminosity even after many years, they should be protected from harmful environmental influences. Varnishes can take over this function, but they are also used for surface refinement or gloss adjustment in oil paintings.
Schmincke final varnish is a glossy synthetic resin varnish which forms an elastic film after application. It is recommended to apply varnish only after a good drying of an oil painting (at the earliest after 8-12 months) with a wide brush or lint-free cloth - then the varnish physically dries out (by evaporation of the solvent). The varnish can be dissolved with TERPENTINE OIL or TERPENTINE REPLACEMENT.
Danger, solvent naphtha (petroleum), light, aromatic = 50 - 70 %, naphtha (petroleum), hydrodesulphurized heavy = 2,5 - 5,0 %, butan-1-ol = 2,5-5,0 %, lavender oil = 0,1-0,2 %, (VOC-Gehalt (CH) =66 %), Aquatic Chronic 2, Asp. Tox. 1, Eye Irrit. 2, Flam. Liq. 3, STOT RE 2, STOT SE 3
Hazard warnings
H226: Flammable liquid and vapour.
H304: May be fatal if swallowed and enters airways.
H319: Causes serious eye irritation.
H335: May cause respiratory irritation.
H336: May cause drowsiness or dizziness.
H373: May cause damage to organs through prolonged or repeated exposure .
H411: Toxic to aquatic life with long lasting effects.
Safety instructions
P102: Keep out of reach of children.
P210: Keep away from heat, hot surfaces, sparks, open flames and other ignition sources. No smoking.
P243: Take action to prevent static discharges.
P260: Do not breathe dust / fume / gas / mist / vapours / spray.
P273: Avoid release to the environment.
P280: Wear protective gloves / protective clothing / eye protection / face protection.
P301+P310: IF SWALLOWED: Immediately call a POISON CENTER / doctor / ….
P301+P330+P331: IF SWALLOWED: Rinse mouth. Do NOT induce vomiting.
P303+P361+P353: IF ON SKIN (or hair): Take off immediately all contaminated clothing. Rinse skin with water [or shower].
P305+P351+P338: IF IN EYES: Rinse cautiously with water for several minutes. Remove contact lenses, if present and easy to do. Continue rinsing.
Schmincke final varnish
2 Variants