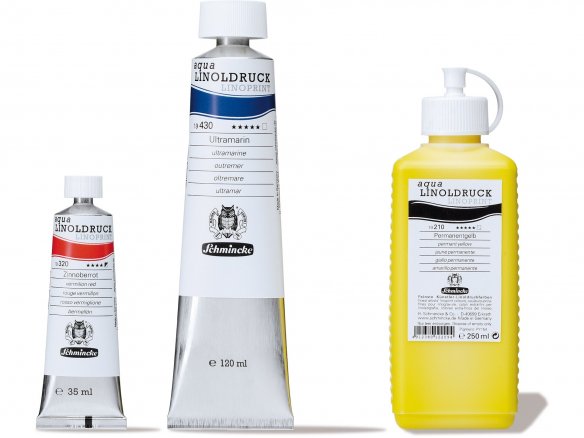 ready-to-use water-based printer´s ink, organic or inorganic pigments in natural binding agent (gum arabic), pasty consistency, glaze coating (transparent) or opaque coverage depending on the pigment, colours are intermixable, very good to excellent lightfastness (non-fading), hazardous substance labeling not required by GefStoffV (German Hazardous Substance Ordinance)
The high quality Schmincke Aqua linoprint inks are easy to work with and produce sharp-edged, even printing results that display a high degree of colour intensity and dry quickly (smudge-proof after about 15 minutes). Thin Washi paper is particularly good for making prints but materials such as cardboard or felt can also be used successfully. In addition to linocut prints, this supple ink can also be used with woodcuts as well as for making prints on other materials with different printing blocks made of cork, rubber or potatoes. All the colours can be overprinted with other colours, are intermixable and can be thinned with water. The different characteristics of the individual colours (glazing effect, semi-transparent, or opaque) produce interesting effects when they are painted over one another. The three metallic hues and the auxiliaries LINO PEARL, LINO GLOSS and LINO GLAZE deserve particular mention because of how they expand the linocut printing possibilties.
Printing blocks and tools can be easily cleaned using LINO CLEANER and/or water. When working on paper, the finishing treatment can be made with the Schmincke universal fixative (Aerospray).
Schmincke Aqua linocut paint
36 Variants