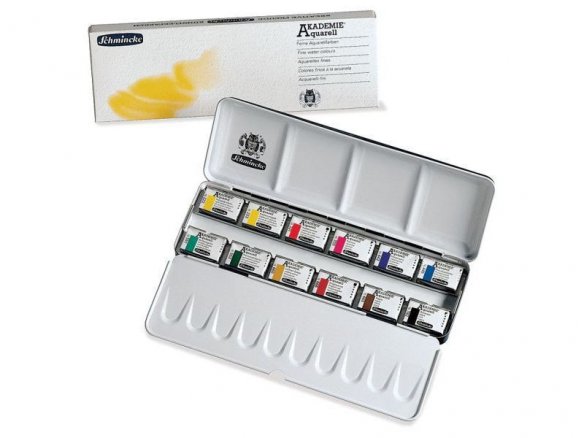 water-soluble aquarelle paints made with pigments (does not include cadmium pigments), Kordofan gum arabic, oxgall and 10% filler, solid, poured into pans in a liquid state 2 times, high to conditional lightfastness (non-fading), glazing to opaque coverage (depending on the pigment), hazardous material label not required according to GefStoffV rules, comes in half jars and large jars
Academy from Schmincke is a solid aquarelle paint without cadmium pigments. It is available in 24 colour hues (15 of which are single pigment hues) that provide the beginner with a sensibly constructed complete assortment with which brilliant mixing results can be achieved. Its colour gradient can be completely controlled (even on soft aquarelle paper) because of the optimal combination of binding agents. The Academy paints can be reused without problem even after having dried on a palette (this depends on the specific pigment) and are relatively lightfast (non-fading). Because of the fine and light-sensitive colour application usually associated with watercolour painting, aquarelle pictures should not be exposed to sunlight for long periods of time.In order to prevent a great amount of change to your colours over time your work can be coated with a UV protective varnish.
The very reasonable prices make the Academy aquarelle paints particularly suitable for beginners and hobby painters. They can be combined and mixed with SCHMINCKE HORADAM AQUARELLE PAINT as well as SCHMINCKE AUXILLIARIES FOR WATERCOLOURS.
The set of 12 includes: 222, 225, 332, 333, 443, 445, 551, 553, 660, 666, 665, 782
The set of 12 half jars in the long metal box has room for 12 more half jars.
Schmincke Academy aquarelle paint
4 Variants