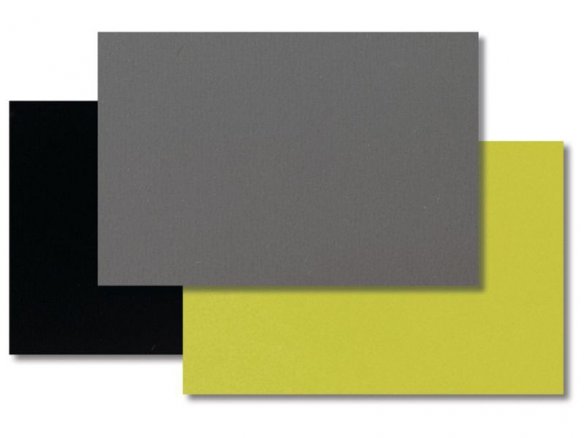 soft-PVC laminated on pearl white paperboard, ca. 170 g/m², matte, th = 0.5 mm
The Santina cover material gives any booklet, book, portfolio or (folding) box a very special feel (haptic) – anyone familiar with the TOUCHE BOOKBINDING BOARD knows what this means because Santina has a very similar surface. Its surface, too, feels like it has been coated with wax – or like those very slightly roughened plastic coatings found, for example, on cases, writing utensils and kitchen knife grips which are especially soft and have a very nice feel to them.
Other possibilities include laminating shelving surfaces or the like with this matte material in order to attain a smooth but coloured surface that is anti-skidding in its own special and attractive way. Despite being a half a millimetre thick, this material is surprisingly flexible – even when applied in narrow radiuses the material will not crease or show any other unwanted signs of having been bent. The barrel of a pencil, for example, can be cleanly covered with this material.
Because of its paperboard liner, products like bookbinding glue, Ponal, double-sided adhesive film or spray adhesive can be used for gluing purposes. Cutting work can be easily done with a scissors, blade, cutter or a circle cutter. It can be folded with a FOLDING BONE without cracking or splitting. It can also be used in conjunction with blind embossing, foil blocking and screen-printing.
The colours closely resemble the following RAL colours:
sulphur yellow RAL 1016
ultramarine blue RAL 5002
grey RAL 7037
black RAL 9011
Santina Flexcover cover material
3 Variants
Note
Please note that no exchange is possible in the case of products cut from rolls.

The minimum order for products sold from rolls: 0.5 running metre