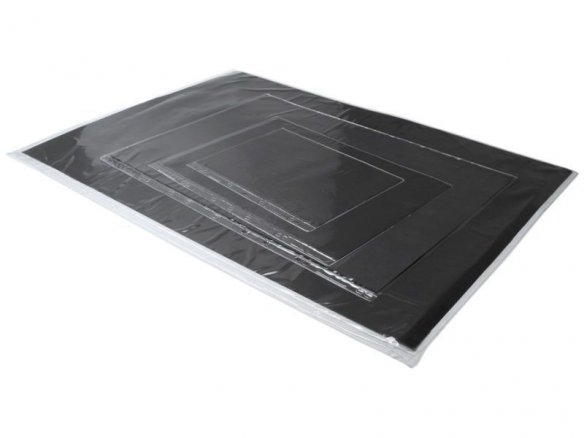 PVC, archival safe, acid-free, transparent, lightly grained, with universal hole pattern, opening at the top, with black paper insert
These Rumold sheet-protectors, which are available in singles, will fit all conventional folders with multiple ring mechanisms. Because they are wider than the normal versions, these sheet-protectors are not suitable for folders whose outer dimensions correspond exactly to A4 (like, for example, the POST PRESENTATION BINDER WITH LINEN SPINE). For those, we have the STANDARD REPORT COVERS on offer.
These high quality sheet-protectors are 0.2 mm thick and thereby much thicker and sturdier than other types of sheathes (like, for example, the RUMOLD STANDARD SHEET-PROTECTORS, PVC). You can almost be sure that they will not wrinkle or crease. In addition, the problem of sheathes sticking together because of static electricity is to a great extent solved by the specially grained surface texture of these sheet-protectors. This texture also serves to decrease the amount of reflection of light. Although these sheet-protectors are made of PVC, the manufacturer assures us that they are archival safe and acid-free. They did not, however, provide us with the results of a Photographic Activity Test (PAT) which tests the archival quality of things like photo sheathes according to an international standard (ISO 18916). Whether photographs or pictures can in fact be safely stored over extended periods of time is still an unanswered question for us.