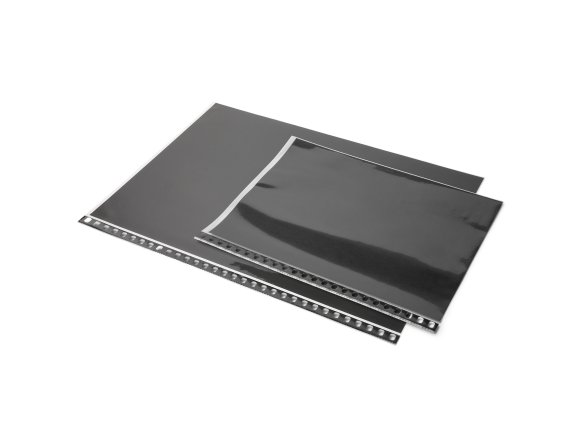 PP, archival safe, highly transparent, opening at the top, black paper reinforced filing edges, come with black paper insert
These smooth, highly transparent sheet-protectors with their 22 holes will unfortunately not fit into all folders with ring mechanisms. They are, however, perfect for replacing or expanding the number of sheet-protectors in the RUMOLD RING BINDER, BLACK. Because they are wider than the normal versions, these high quality sheet-protectors are not suitable for folders whose outer dimensions correspond exactly to DIN A4 (like, for example, the POST PRESENTATION BINDER WITH LINEN SPINE). For those, we have the STANDARD REPORT COVERS on offer.
These sheet-protectors are 0.1 mm thick, which is a mark of very high quality and prevents them from wrinkling and creasing as quickly as other thinner versions. They are made of polypropylene and therefore archival safe. They can accordingly be used to store photographs or pictures for extended periods of time.