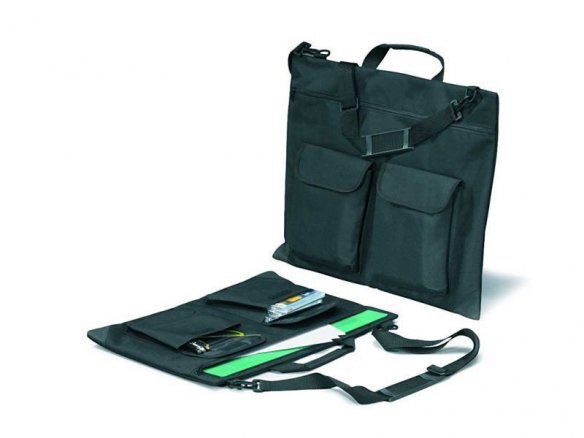 light sturdy polyester fabric, lined and padded, 4 large interior compartments, 1 small compartment for a ruler, a pen holder, two pockets with fasteners attached to the front side, main compartment is zippered, reinforced handle, removable carrying strap, the given dimensions are the approximate exterior measurements
Although actually designed with the idea of transporting whole drawing boards, this flat cushioned drawing case is great for the weather-proof transportation of application and presentation folders, drawing blocks or cutting mats together with various drawing utensils. One practical feature of the carrier strap is that it is removable so that this elementary holder can be easily carried on a bicycle.
Although the manufacturer recommends that the small case be used for A4 drawing boards and the large one for A3, formats up to 430 mm in width will fit into the small case and those with a width of 550 mm will fit into the large one.
Rumold drawing board case, black
2 Variants