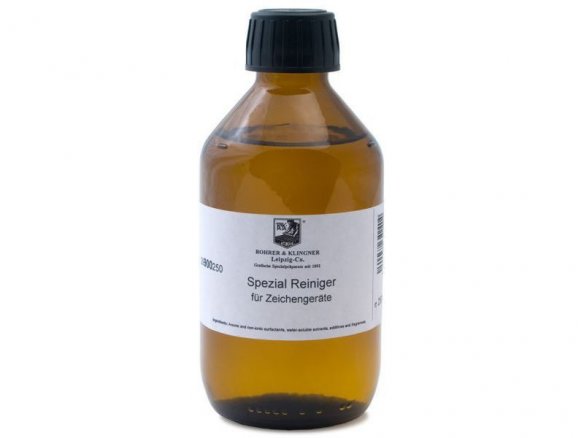 removes impurities and stains that are not easily dissoluble provided they are on surfaces that are not sensitive to solvents; colourless, smell nice, anionic surfactant (under 5%), water-soluble solvent, contains additives and aromatic substances, flammable, requires no GefStoffV (Ordinance of Hazardous Substances) label
This special cleaner from Rohrer not only removes inks and tusche (Indian ink) that are resistant to being dissolved from steel nibs, fountain pens and drawing devices, but impurities and stains made by pencils, indelible pencils, felt pens and label residue as well – provided that these are found on solvent resistant plastic and plastic coated surfaces as well as stainless steel, aluminium and anodized aluminium. This cleaner should not be used on ABS plastics and water-based paints or coatings that are sensitive to solvents.
Processing: A preliminary test should be made on an inconspicuous spot to determine a material suitability before applying the cleaner for the first time. When cleaning a surface the cleaner should be put on a cloth (never directly on the surface to be cleaned!) and then rubbed until it is dry to the point of leaving no residue. Drawing devices are also best cleaned with a soaked cloth while cleaning a cartridge converter is merely a matter of filling it and emptying it again. Actually dunking or soaking any drawing device in Rohrer´s cleaning fluid is NOT recommended.
Rohrer's fountain pen cleaning solution, glass bottle, 250 ml