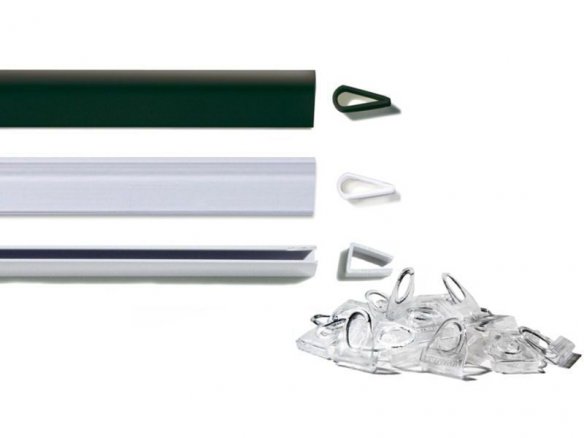 matte, includes eyelets for mounting that click into place (only on Nr. 176), capacity: 4 mm (Nr. 176) or 8 mm (Nr. 367), given dimensions: height x width x wall thickness
These spine bars are not only used to bind basic catalogues and folders (see, A4 SPINE BARS) but are also used as a means of hanging posters (Nr. 176). In addition, they can be used as edge protectors for metal sheets, cardboard and other panels (Nr. 176 for thin materials, Nr. 367 for panels with thicknesses between 4 – 8 mm – e.g. KAPA or FOREX).
We recommend that the eyelets that we have on offer for that purpose be used for any hanging requirements when working with the Nr. 176  spine bars.  The Nr. 367 spine bar does not have the clamping power to hold the eyelets for hanging in place. The eyelet can, however, still be used but with the knowledge that it will fall out when not under load. It is for that reason that in this case we recommend that the eyelets be used in conjunction with FOLDBACK CLIPS, which can be used to attach the necessary cord or cable. When cutting the spine bars manually you can use a simple household saw or a METAL BOW SAW; if machine sawing is desired, a chop saw should be used. Alternatively, the spine bars can be cut to size by us (see CUSTOM CUTTING SERVICE).
Rigid-PVC spine bar, for insertion
3 Variants