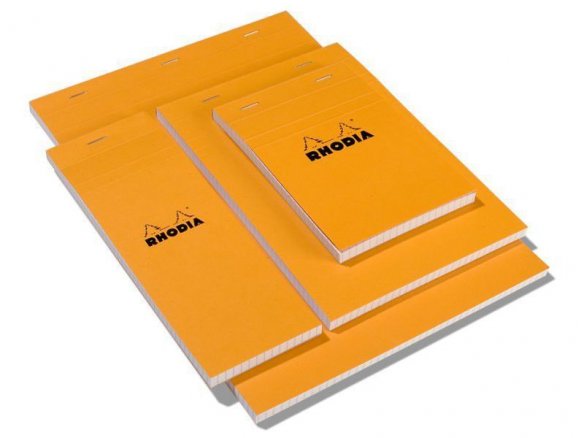 bright white paper, satin-finish, wood-free, 80 g/m², no margin, no holes, cardboard cover, bound at the top
The design of the Rhodia writing, note or even drawing pad has classic, discreet and timeless notes in its design. The perceived "timeless" attribute is particularly apropos when you consider that the pad has hardly changed at all since 1934. It is made in France, a country that is known for its sense of style in many fields including that of writing pads, notebooks and the like. You only have to think of the company CLAIREFONTAINE to see our point – Rhodia, by the way, took over that company a few years ago!
Now about the paper: your writing, note-taking or drawing is gratefully accepted by a snow white, satin-finished, i.e. heavily sized, smooth vellum paper, the kind that many prolific writers and artists have grown to love. Lines, in so far as they are present at all, are a really pale violet – also a typically French touch!
The cover is made of solid cardboard – plain and simply beautiful. The pads are bound at the top and in a "sangrif" manner, which means that the staples do not appear on the back.
Rhodia writing pad, orange
11 Variants