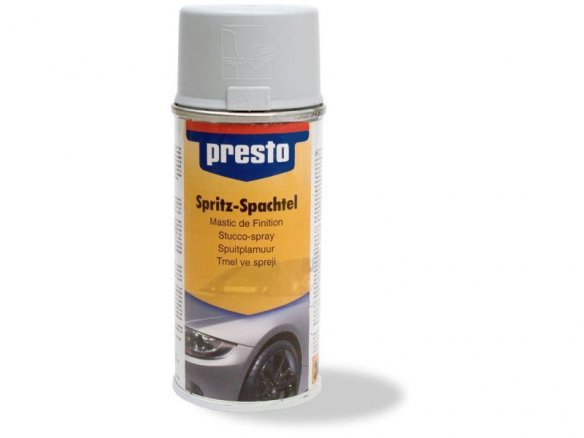 acrylic based putty in a aerosol can, can be painted over after about 5 minutes, weather resistant, hazard warning: Xi (= irritant), F+ (= highly flammable)
An acrylic spray putty of filler is actually just a thicker type paint that is able, because of its consistency, to fill uneven areas and irregularities and thereby make them smooth – not, of course, knee-deep holes, but scratches, sanding marks, fine grooves or slight gaps so that after drying and further handling a clean, smooth surface will be produced that is ready for paint. This acrylic spray putty should not be confused with a primer but it will nonetheless adhere extremely well to surfaces like wood, metal (preliminary testing is advised) as well as many plastics. Applying it on top of other synthetic resin paints is not recommended. This filler is waterproof, provides good protection against corrosion and can be applied in multiple coats where necessary; it is, in fact, advisable to apply the filler in numerous thinner coats until a complete coverage (fill) is attained. You should wait a few minutes between coats. After about an hour after the last application, the surface is ready to be sanded by means of WET SANDPAPER (400 grit or finer).
The contents of the spray can (150 ml) are enough to cover approximately 0.3 m², depending, of course, on the condition of the surface and the thickness of the eventual layer applied.
Presto acrylic spray putty (filler)
2 Variants