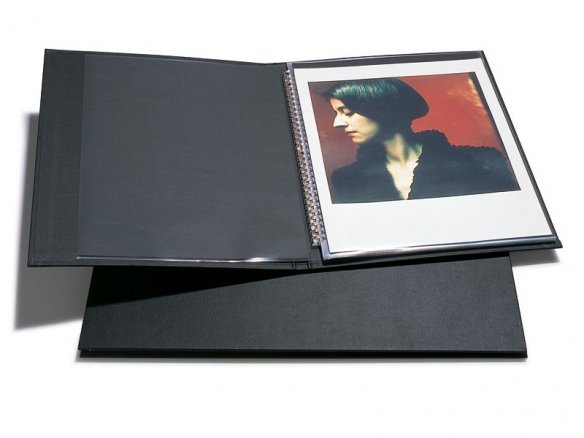 black grainy leather-like vinyl cover, silver spiral that opens, includes 10 crystal clear, archival safe PP sleeves (Prat sheet-protectors, Cristal Laser 502) with black paper inserts, 20 sleeve capacity
The spiral presentation books Laser Modebook 149 and Pampa 143 or 147 have, in comparison to the ring folders, a relatively fine spiral binding with many rings which nonetheless can still be opened up. These books are therefore decidedly smaller than the folders with multi-ring mechanisms. But like those, they will also lie flat on the table during a presentation. The fact that they only have 20 sheet-protectors means they cannot hold as much material as the ring folders (25 sheet-protectors). The spiral presentation book Pampa is very unusual in that it has a finely crafted and distinguished LEATHER FIBRE FABRIC (Lefa) cover.
Please note: upon inquiry, these presentation folders can be customized to your specifications (embossed, printed, etc.). Further information can be found under the heading YOUR LOGO ON MODULOR PRODUCTS.
Prat spiral book, Laser Modebook 149
3 Variants