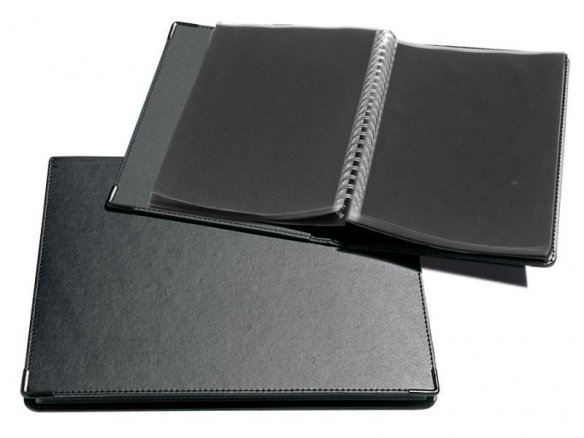 cover is a light grained black leather fibre fabric, black metal corners, black seams, interchangeable black PP refill sleeves (Prat spiral refill book 501) with a metal spiral and crystal clear PP sleeves (archival safe) with black paper inserts, black interior pocket
The spiral book Classic 142 holds within it a complete SPIRAL REFILL BOOK 501 of sheet-protectors. This of course means that single sheet-protectors cannot be interchanged with this type of presentation album: if any of the sheet-protectors become damaged the whole refill book must be replaced. Complete presentations can be archived in a refill book and kept ready at hand to be interchanged as necessary. Because of the slender spiral mechanism, these albums lie particularly flat on a table.
The Classic 142 can be ordered with 20, 30 or 40 sheet-protector refill books – every Classic 142, it should be noted, can be used in conjunction with every refill book of the right size.
Prat spiral book, Classic 142
9 Variants
Note
The given measurements are the maximum useable area of the sheet-protectors.