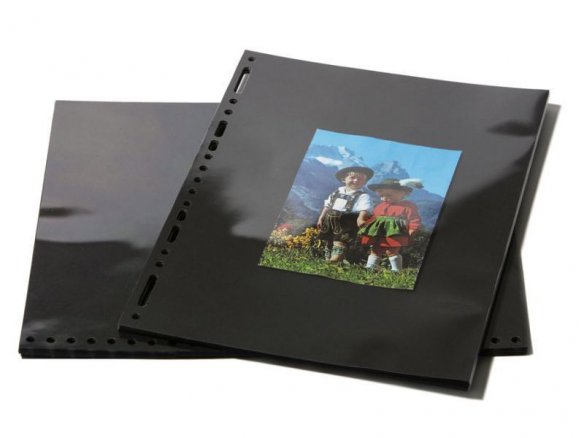 polyester, highest transparency, archival safe, hole punched, open at the top, the bottom and at the holes, with black cardboard inserts (acid-free)
Polyester sheet-protectors are considerably clearer than the normal sleeves found in the marketplace and are the ones preferred by professional photographers. Like sheet-protectors made from polypropylene, they are free of acid and plasticizer and will not discolour the materials that are inserted into them (archival quality).
Because polyester cannot be welded and only lends itself to folding, these sheet-protectors are open on three sides (top, bottom and at the holes) which has the advantage that they can be opened up completely thereby allowing you to position your picture or drawing exactly. The contents are held in place in the sheet-protector through the action of both a vacuum effect and static charge and will not slide out even when held in a somewhat vertical position.
The sheet-protectors Polyester 908 fit into the Prat ring binders and the Prat presentation binders 105, 202 and 300.
Prat sheet-protectors, Polyester 908
4 Variants
Note
The given dimensions apply to the usable space of the sheet-protectors.