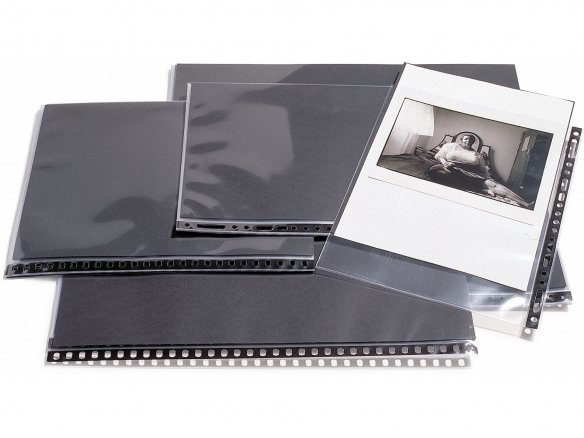 material

polypropylene with black cardboard inserts (acid-free)

Opening

top

Quantity

per 10 pieces
The Cristal Laser sheet-protectors 502 and 904 from Prat are made from polypropylene and are therefore free of both acid and plasticizer (archival quality). Polypropylene sheet-protectors are considerably clearer than normal sleeves, do not discolour the presented materials even when stored for longer time periods and will not stick to the surface of the material inserted into them. It should also be noted, however, that these sheet-protectors are less resistant to scratching than those made from PVC. Both Cristal Laser 502 and 904 have successfully passed the Photographic Activity Test (PAT) which has been set up in order to judge per international standards (ISO 18916) whether a photo sheet-protector is archival quality or not.
The Cristal Laser 904 sheet-protectors fit into, among others, the Prat ring binders and the Prat presentation binders 105, 202 and 300. The punch holes are compatible with all the established multi-ring mechanisms including those from other manufacturers. The strip of mounting holes is strengthened with black plastic and this provides an especially secure purchase for the sheet-protectors.
Prat sheet-protectors, Cristal Laser 904
9 Variants
160 mm x 610 mm
210 mm x 300 mm
240 mm x 320 mm
280 mm x 350 mm
300 mm x 420 mm
360 mm x 430 mm
410 mm x 510 mm
510 mm x 650 mm
510 mm x 730 mm
Note
The given dimensions apply to the usable space of the sheet-protectors.