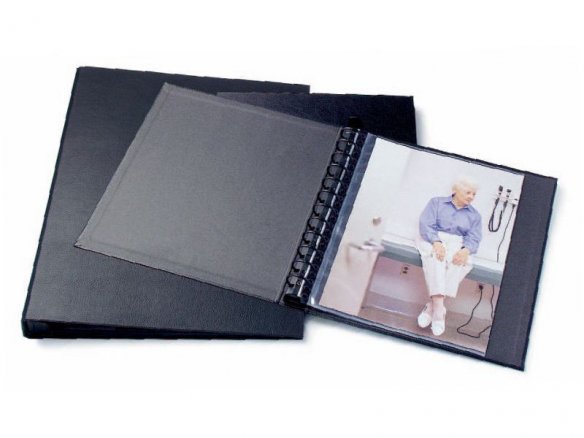 black light grained imitation leather, black multi-ring mechanism ø 30, locking system (from 240 x 320), includes 10 crystal clear PP sleeves (archival safe) with black paper inserts, 30 sleeve capacity
The Professional 105 ring binder has a somewhat more bulky mechanism and its workmanship is much more basic.
Please note: upon inquiry, these presentation folders can be customized to your specifications (embossed, printed, etc.). Further information can be found under the heading YOUR LOGO ON MODULOR PRODUCTS.
It's not easy to differentiate between display books and presentation folders – display books are really just a more basic presentation folder or, if you will, presentation folders are just elaborate display books. The contents of both product groups are placed in film sheets whereby the ones in display books are usually bound while in the case of presentation folders they are usually held by a ring mechanism that allows their removal. But even here, the exception proves the rule; the sheathes, for example, of our DISPLAY BOOK, LARGE, INTERCHANGEABLE SLEEVES, BLACK are indeed removable due to their having a plastic clamp mechanism.
Presentation folders and display books are used for the purpose of transporting drafts, photographs, drawings or similar work so that these efforts can subsequently be displayed in an attractive surrounding. The first concern when choosing a presentation folder should be the size of the material to be presented. Materials larger than approximately 400 x 600 mm can be transported much more easily with a presentation folder that has a handle (e.g. MERA 300, CLASSIC 342). On the other hand, smaller work can be placed in folders that fit comfortably under your arm or which fit nicely in your briefcase. In terms of the presentation itself, whether one wants to remove certain materials in their sheet-protectors in order to, for example, leave them with a customer, is an important consideration. If that is indeed the case, it would then make sense to choose a folder with a mechanism or spiral binding that allows such removals.
In many cases – for example, the presentation of double pages whose contents must be presented together – a mechanism located in the middle of a folder can spoil an important effect. This can be avoided by choosing a suitable album (e.g. COMPACT 131) or a spiral binder with very thin spiral binding (e.g. the PRAT SPIRAL ALBUM 501, the CLASSIC 142). Spiral albums with interchangeable sheet-protectors whose mechanism is not so conspicuous can serve as a compromise between the two requirements mentioned above (e.g. LASER MODEBOOK 149 or PAMPA).
Display books are the right presentation media if you only require a basic level of quality – e.g. for larger numbers of copies or for sending materials to customers.
Both the value of the materials to be presented and the length of time they are to remain in the sheet-protectors are considerations that should determine the quality of the sheet-protectors that you choose. Sheet-protectors made of polyester are the clearest found on the market and are especially preferred by professional photographers. They are acid and plasticizer free and will cause no changes in the colour of the objects they encase; in short, they are archival safe. Polypropylene sheet-protectors are almost as clear as the polyester versions and they will also not cause colour changes in the objects they encase because they, too, are plasticizer and acid free. In addition, they will not adhere to the surface of a page inserted into them. The polypropylene sheet-protectors are, however, more prone to scratching than a third version made of PVC which is also available. On the other hand, the PVC versions are unfortunately not archival safe. They should not be used to store photographs or pictures for extended periods of time.
What role the external appearance of a folder will play and how important this will be to the presentation itself must be decided based on your own projections and a correspondingly basic or high quality folder should then be chosen. No matter what the circumstances, however, if a folder from the company Prat, which has such consistently high quality products, is chosen, even the most demanding customer will be satisfied.
The given folder and display book dimensions usually refer to their outer measurements of the folder itself while those for sheet-protectors usually refer to the usable space within them. In the case of the manufacturer Prat, however, the given dimensions of the folders actually describe the usable space of the corresponding sheet-protectors within them; the folders themselves are somewhat larger. If the albums, books or folders are held in your hands like you would a standard book, the given measurements correspond to the width and height of the book so held.
Please note: We will be glad to customize any of our display books and folders to your specifications (embossing, printing, etc.). Further information can be found under the heading YOUR LOGO ON MODULOR PRODUCTS
Prat ring binder, Professional 105
Note
The given measurements are the maximum useable area of the sheet-protectors that fill the folders.
Accessories and Related Products