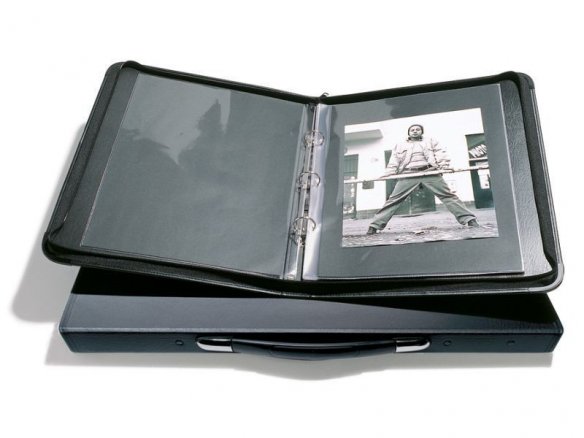 black cover with retractable handle, black metal protective corners, continuous border, black seams, silver ring mechanism ø 30, locking system, zipper, elastic retaining straps, without sheet-protectors, 25 sheet-protector capacity (or only 20 sleeves in the size 600 x 850 or when there is more weight as a result a heavier insert material being used)
The inexpensive presentation binders offered by the company Prat under the name "Start" are the functional equals of their premium binders (MERA 300, CLASSIC 342) but the manner in which they are crafted and finished is not up to those standards. In contrast to those premium binders, however, the Start presentation binders do not contain a removable refill book. The spine mounted handle allows pages to hang downwards to avoid wrinkling. The ring mechanism allows individual sheet-protectors to be replaced but only PVC versions are available for this purpose. For information regarding the difference between PVC and PP sheet-protectors, please consult the information about SHEET-PROTECTORS FOR PRESENTATION FOLDERS (in the catalogue which is still not available in English – but you can also check the information found by individual products under that heading in the webshop).
Prat presentation binder, Start SPR1
5 Variants
Note
The given measurements are the maximum useable area of the sheet-protectors that fill the folders.