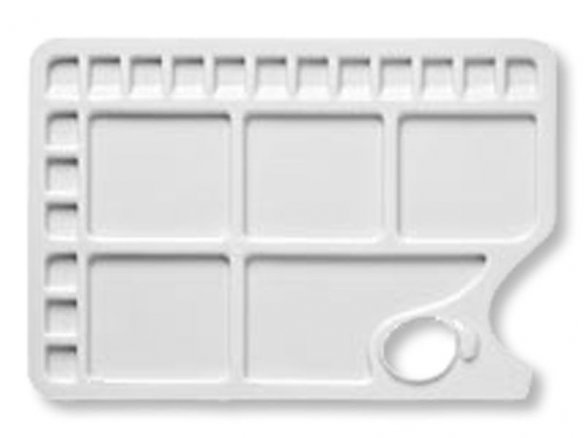 white, sturdy, with hollowed out mixing areas, for watercolour, gouache and acrylic paints
The squarish version of this plastic palette has 18 small and 5 large mixing areas for large or small amounts of paint as may be required. Before you begin painting, the basic colours you will need for mixing purposes can be squeezed directly from their tubes into the small mixing wells whereby they will be immediately available for use in the larger mixing areas. The classically shaped oval version of this plastic palette has 10 round wells of the same size that are deep enough for mixing even very liquidy watercolours. When being mixed together, pasty paints are well served by its smooth, easy-to-clean middle area. The very reasonably priced oval version of this plastic palette is a great choice when larger numbers of palettes are required for schools and painting classes.
The thumb hole allows you to hold the palette when standing in front of an easel by sticking your thumb through the hole and resting the back part on your forearm.
Plastic palette with thumb hole
2 Variants