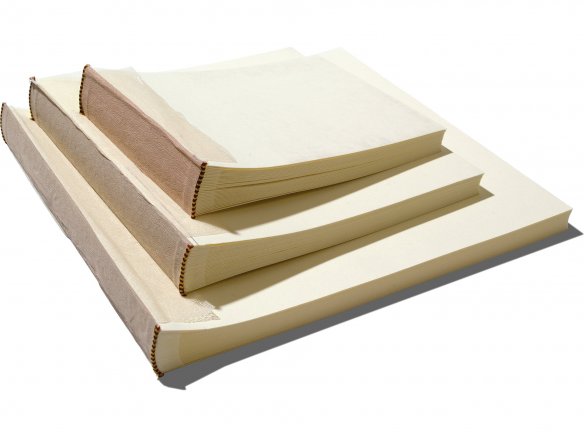 material

approx. 230 g/m², 30 sheets, glassine separator sheets with linen embossing approx. 40 g/m²
These photo album book blocks, which come with black or white photo mounting board, are put together like a classic photo album – just without the cover. That work has been left for you: you can use support cardboard, covering material or perhaps linen fabric tape for the job. Considering the large selection of covers on the market you can only see this opportunity as a real chance to display your creativity and taste.
These photo albums are put together in a very sturdy fashion: each cardboard sheet is creased on the bound side and the resulting ridge is where the next sheet is glued. Because of these cardboard separators the spine side of the album is considerably thicker than the end across from it (the edge for turning the pages) and this is what gives the album its typical photo album "V" shape when seen from the side. This ridge-based binding has the effect that the album will not fall apart at the binding even after much use and, secondly, that the book block only acquires its "right" shape (which is to say parallel covers) after photographs or other materials have been glued into it.
The photo mounting board sheets, as would only be expected in a respectable photo album, are separated by embossed, rustling glassine sheets. They have a great look but primarily serve to prevent glossy photographs from sticking to one another when lain one upon the other.
As for the photographs, they can be attached by means of photo corners – this is the time-honoured variation where the photographs tend to escape the corner pockets and fly all over the place when you are turning over the pages. Good alternatives include spray glue, photo glue or double-sides adhesive tape all of which we carry in various styles.
Photo album book block, blank
6 Variants
205 mm x 150 mm
230 mm x 245 mm
305 mm x 300 mm
upright format
landscape format