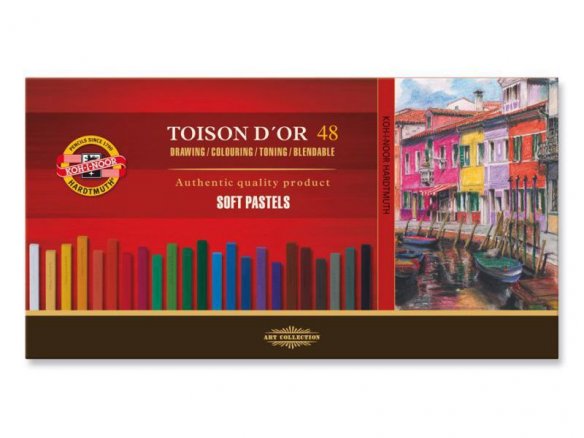 square (7 x 7 mm), l = 75 mm, no paper band, oil-free, can be blended with water (aquarelle effect)
Pastels (chalks) are actually pure, fine colour-powder, a consistency that makes it possible for you to apply colour in a dry process or to apply a tinge of pigment to paper. It also takes well to being smudged or blurred if you want to optically mix colours or create other effects. So as to make it more practical to use, a binding agent is added to the powder and a writing instrument is formed – sometimes jacketed in wood, sometimes only wrapped with a paper band or even just left naked and carefully packed in a padded box.
The artist quality Koh-i-Noor soft pastel numbered 8580 is square in shape and are not wrapped in paper so that, in addition to the fine lines you can make with the tip, you can also cover large areas using the technique of longitudinal edge drawing. The lightfastness (non-fade) of the colours numbered 5, 32, 19, and 42 is "good" while the rest of them – 44 of the 48 colours – are rated as "very good" to "excellent". This version of Koh-i-Noor´s pastels is not as "chalky" soft in application as, for example, the soft pastel 8550. These are more similar to the 8820 pastels that are wood encased although that version is a bit scratchier and lays down a somewhat more intense colour.
Pastellkreide Toison d´Or Soft Pastels
6 Variants