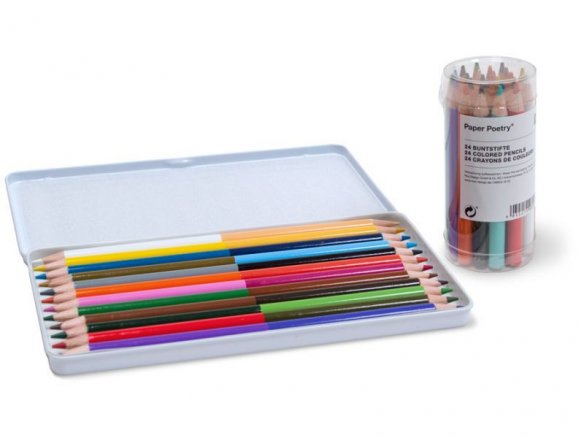 round barrel that is painted the colour of the lead
Coloured pencils belong to the basic equipment that a child must have for going to school - they can be used to make simple drawings, colour a variety of different materials or used for decorating handicrafts projects.
These mini-pencils in a plastic cylinder save space in the school satchel and can even be used on dark paper or blackboard film. In addition to 19 standard colours, there are also neon (yellow, pink, green) and metallic colours (gold and silver) included in the set.
Even though there are only twelve pencils they are still able to supply 24 different colours by virtue of the "Double Happiness Pencils" which have two different colours, one at each end. The pencils are break-resistant by virtue of the metal case that they come in.
Paper Poetry coloured pencils, 2in1 (Double Happiness),set of 12(24) in metal cas