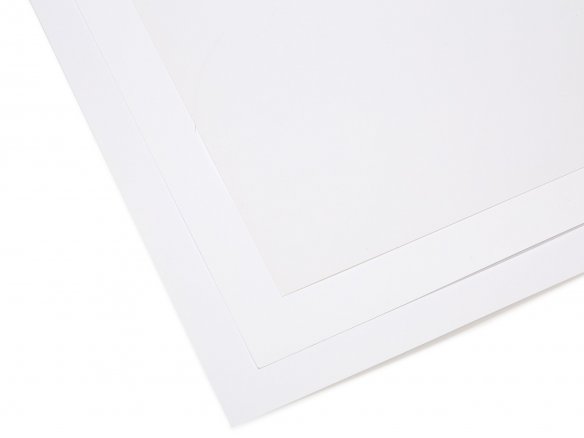 triple coated, satined, white, half-matte (semi-gloss), wood free, aging-resistant
This paper, which is coated three times, is primarily a wood free picture printing paper (offset printing!). Its most conspicuous attribute is its porcelain smooth surface which, in contrast with most other coated paper, has a very nice feel to it. This paper is resistant to aging and 100% chlorine-free bleached (TCF). It takes well to folding and has a noticeable stiffness about it.
In addition to its classic use as a print paper (letterpess), it can also be used as a very smooth drawing paper or board (as the case may be - especially when used with fibre tip pens or markers),  a sketching paper or a handicraft paper. It should also be noted that a laser printer can be used on this matte coated paper. It has been our experience that the 150 g/m² version is best suited for this purpose but also that the 250 g/m² version can be used in conjunction with newer laser printers as well. Preliminary tests are recommended because no general assertions can be made about all the various brand-name printers.
Paper/board, white, matte coated
8 Variants
210 mm x 297 mm
297 mm x 420 mm
700 mm x 1000 mm
90 g / m²
150 g / m²
250 g / m²