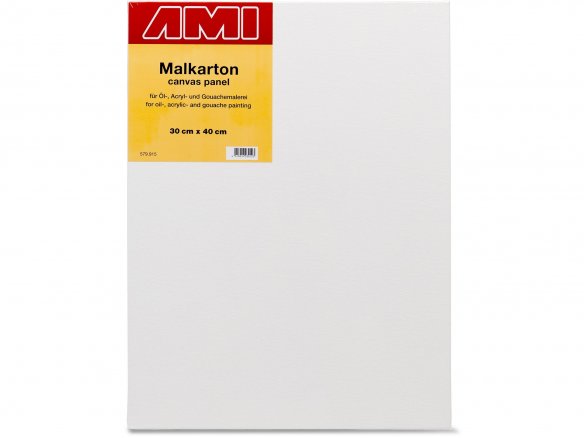 Material

stiff cardboard, covered with white primed cotton ca. 330 g/m²

Dimensions

3 mm (width)

Surface

medium texture, weak absorbency (for all painting techniques)

Configuration

covered with primed artist canvas, back side covered with white paper
Painting board is a handy and low-priced alternative to stretched canvas. It is thus a good choice for beginners or large consumers (e.g. for production of quick studies) or for use in the area of art education.
The sturdy board is covered with high quality and pre-primed painting canvas made of 100% cotton. It has a medium texture and the primer is weakly absorbent: the painting board can therefore be used with various painting techniques, from tempura and acrylic to oil painting. We recommend an additional coat of primer if you plan on using gouache or watercolour techniques - options for this include: ACRYLIC ABSORBENT GROUND or SCHMINCKE AQUA PRIMER.
Painting board, lined and primed, white
15 Variants
100 mm x 100 mm
130 mm x 180 mm
150 mm x 150 mm
180 mm x 240 mm
200 mm x 200 mm
200 mm x 300 mm
240 mm x 300 mm
300 mm x 300 mm
300 mm x 400 mm
400 mm x 400 mm
400 mm x 500 mm
400 mm x 600 mm
500 mm x 600 mm
500 mm x 700 mm
600 mm x 600 mm