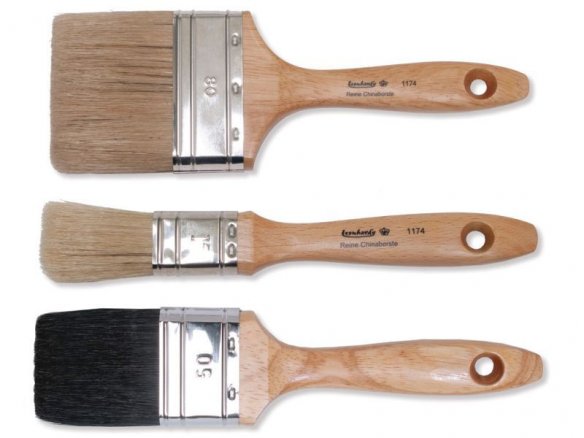 thickness (density) of the brush is 12, pure China bristles, silver sheet metal ferrule, clear varnished wooden handle, exposed bristle length is 46-62 mm, w = width of the ferrule, h = thickness of ferrule (brush thickness)
This artist-quality China bristle paintbrush has a nice hefty feel in the hand and is able to take up a large amount of paint. It is great for applying solvent-containing and water-based paints, liquid waxes or oils.
The brush thickness number refers to the "density of the brush in relation to the width. The greater the thickness value, the more paint a brush is able to take up. Artist quality brushes come in thicknesses of 9 and 12 while those for home handymen come in a thickness of 6.
Paintbrush, flat, natural bristles, brush thickness 12 (1174)
3 Variants