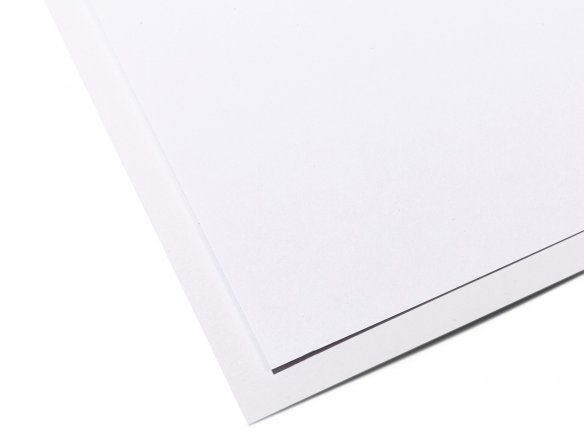 bright white, smooth, wood free, 1.15 - 1.2-fold volume, aging-resistant, up to 170 g/m² with laser- and ink-jet guarantee (s/w)
When compared to normally treated paper with the usual smoothness (thickness of 100 g/m² sheet is 0.1 mm; the 60 g/m² sheet is 0,06 mm), our offset paper has a volume per unit of weight that is 1.15 to 1.2 times higher. The paper is made from elemental chlorine-free bleached pulp (ECF). It is bright white, wood free, acid free, conforms to the norms for archival use (AMSI 39-48-1992, ISO 9706, DIN 6738) and will consequently last - in case that is a concern – for many hundreds of years.
The wonderful smoothness of this paper makes it a great choice for making intricate and exact drawings with ink pens, ball point pens and fibre tip pens. In addition, they can of course be used in a myriad of other ways beginning with universal office paper, continuing on to include making preprints and forms, use as laser, fax, ink-jet and copier paper and concluding with the production of high quality brochures and books.
We guarantee that all our offset paper with a grammage of up to and including 170 g/m² can be used successfully with laser and ink-jet printers. Based on our own experience, the newer laser printers can be used on the 250 g/m² paperboard as well. The attributes of any colour printing work should be tested individually because the various printer brands do not make any binding claims in this regard. This paper is easy on printers and its use is trouble-free.
Offset drawing paper/board, smooth
6 Variants
90 g / m²
170 g / m²
250 g / m²
210 mm × 297 mm
297 mm × 420 mm
700 mm × 1000 mm