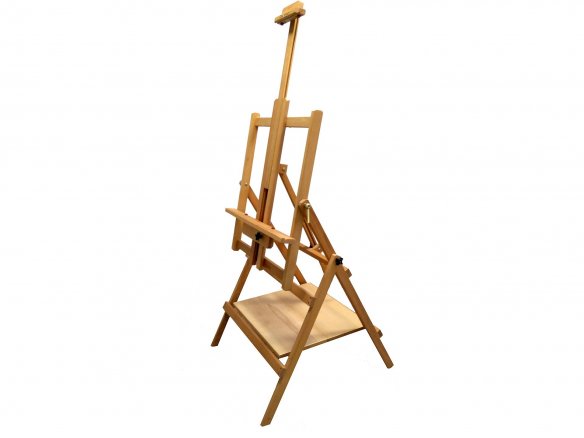 Stable footing on four feet
Continuously adjustable tilt angle with quick-release clamps
Horizontal table position possible for watercolor painting
Collapsible and space-saving
Material

Oiled beech wood

Assembled dimensions (L x W x H)

600 x 680 x 800–1880 mm

Transport dimensions

130 x 630 x 1020 mm

Weight

8.5 kg

Maximum canvas height

1170 mm

Canvas support width

ca. 600 mm

Working height in horizontal position

870 mm
The handmade multifunctional or studio easel made of solid beech wood stands sturdily on four legs with rubber feet. The tilt angle of this solid construction is continuously adjustable to a horizontal painting table by means of quick release clamps. In this position, one can also work with wet painting techniques such as watercolor. When used horizontally, the working height is 870 mm, which allows painting while both sitting and standing.
With its 600 mm wide canvas surface support, the easel is also ideally suited for larger canvas frames in landscape format. Narrower canvas sizes fit well on the very wide central bar. All canvases up to 1170 mm in height can be firmly clamped in place with the adjustable canvas arm. The lowest working height for seated painting is 570 mm.
Additional reinforcing, and thus stability, for the multifunctional easel is obtained through the bottom beech wood shelf, which of course can be used as a work surface and storage area for brushes and paints. For storage, the easel can be folded flat. For easy self-assembly, it is already delivered partially pieced together.
Multifunctional easel, beechwood, tiltable, d = 600 mm, w = 680 mm, max. h = 1880 mm, 8,5 kg