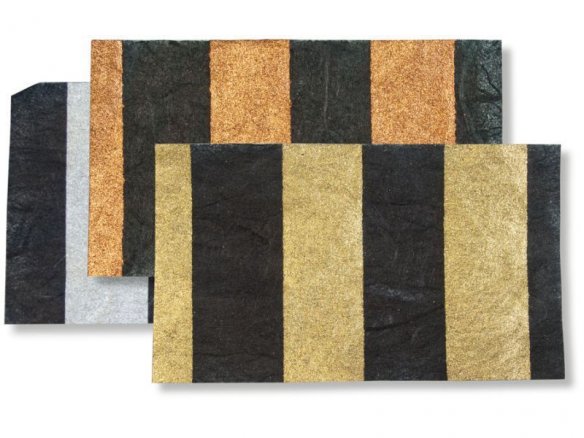 black mulberry tissue paper printed on one side with metallic colour
Everybody has seen it: the velvety soft tissue paper found in fashion boutiques being used as the wrapping for some special product that you just purchased.
The tissue, of course, also displays the insignia or trademark of the designer or company responsible for your fine creation. This style of mulberry paper combines the fine, textile character of mulberry paper with metallic stripes. In comparison to the customary paper used in shops, the printed metallic stripes make this one somewhat stiffer, wavier and more voluminous and give it a courser surface.
Obvious uses of this paper include the wrapping of valuable gifts, lining paper for gift and hat boxes and treasure chests as well as lining paper for cabinets, wardrobes and doll houses.
Mulberry paper, striped
3 Variants