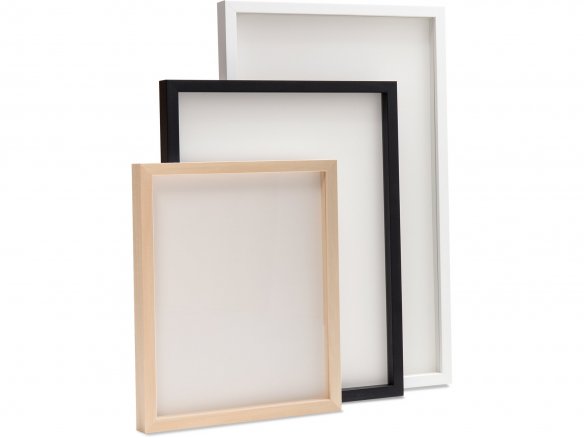 Profile width

15 mm

Profile height

30 mm

Frame sides

double stapled

Inner frame

stapled

Glass

2.0 mm thick ultra clear glass with burnished edges

Rear panel

2.0 mm thick MDF with riveted spring clips

intermediate cardboard layer

1.5 mm thick conservation board, age resistant
By popular demand the Moritz S interchangeable picture frame has been joined by a real to goodness object frame with a 10 mm inner frame. In this way your works can be mounted with a 10 mm separation distance between the glass and the rear panel - which is ideal for pasty images, paper mounted in a hanging manner and other similarly special materials. Available in white (matte), black (matte) and natural basswood. We use no tropical woods. Made in Germany! 
Moritz Max object frame, wood
24 Variants
200 mm x 200 mm
240 mm x 300 mm
300 mm x 300 mm
300 mm x 400 mm
300 mm x 500 mm
400 mm x 500 mm
400 mm x 800 mm
500 mm x 500 mm