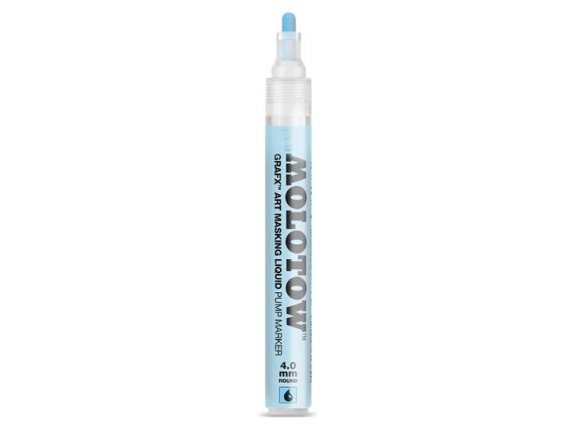 masking medium, liquid copolymer dispersion, ammonia-free, removable, dyed blue, liquid, warning label not required by GefStoffV (hazard substance ordinance), refillable, plastic barrel with dosage tip
The GRAFX Art Masking Pen contains a water-based masking and covering liquid: Details in pictures are painted over with the Masking Pen and thus covered up in such a way that they will not be influenced by any subsequent paint applications. After the secondary paint application dries, the rubber-like masking layer can be easily rubbed off with your finger or an eraser without leaving any residue behind. This masking material can also be applied to already painted areas. The edges that come about as a result of the Masking Liquid are really rather sharp - the rubber layer will not allow any watery medium to get under it.
The Art Masking Pen is for use with practically any substrate and painting technique - from watercolour to acrylic! It should be noted that the tip of your application tool should be somewhat soft because otherwise your rubber layer could inadvertantly be scraped off: a sharpened hard pencil is already in the dangerous zone! Really, the best way to employ the Masking Liquid is with the GRAFX Art Ink Softliner, with any of the Molotow markers, watercolour brushes, comparable writing and painting tools or even with spray bottles.
Molotow GRAFX Art Masking Liquid Pen
2 Variants