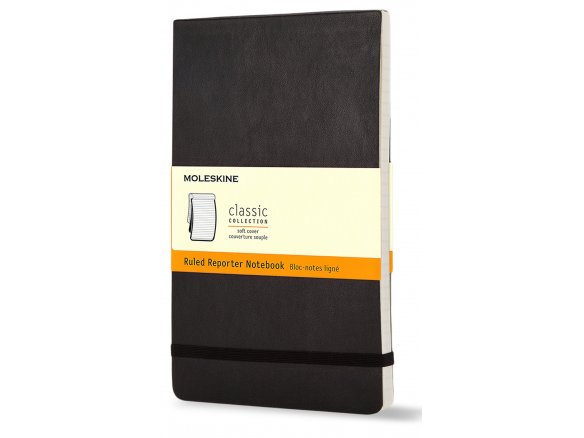 cream white, matte paper, approx. 75 g/m², the last 24 pages/12 sheets are perforated, thread stitch binding, flexible cover covered in black Moleskine paper, flat black rubber cord fastener, with cardboard pocket
There is now a softcover version of the favorite notepad among journalists for taking notes and making sketches or first drafts. This smallest version of a Moleskine is especially great for being carried around in your pants pockets. The flexible cover will bend when you sit down thereby sparing it from any creasing or even breaking. This is also true for the larger version which, yes, does not fit in your pockets but will certainly end up being carried around in your handbag or backpack in order to be ready for action.
Please note: upon inquiry, Moleskine books can be customized to your specifications (embossed, printed, etc.). Further information can be found under the heading YOUR LOGO ON MODULOR PRODUCTS.
Moleskine Pocket Reporter notebook, softcover
3 Variants
90 mm x 140 mm
130 mm x 210 mm