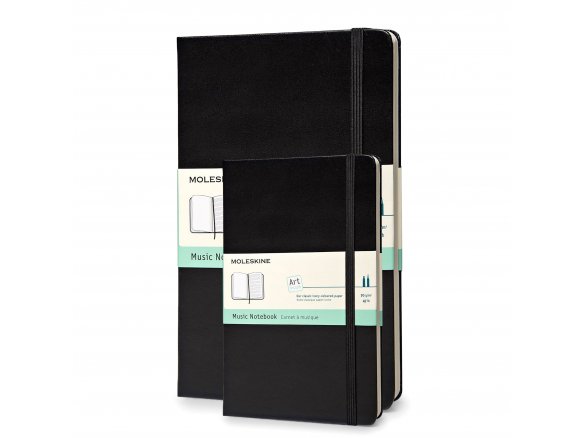 matte cream white paper approx. 75 g/m² with staff lines, thread stitch binding, bookmark ribbon, rigid cardboard cover covered in black Moleskine paper, flat black rubber cord fastener, with cardboard pocket
Musicians and sound designers can use this notebook to record any chords or melodies that might pop into their heads while travelling.
The A5 version of this notebook offers a particularly large amount of space for creative thoughts because for this size only the page on the right has staff lines. The left page is blank and thereby provides space for song texts, drawings or just general notations. The A6 version has staff lines on all the pages.
Please note: Upon inquiry, Moleskine books can be customized to your specifications (embossed, printed, etc.). Further information can be found under the heading YOUR LOGO ON MODULOR PRODUCTS.
Moleskine musical notes notebook, 90 x 140, app. A6, 96 sheets/192 pages