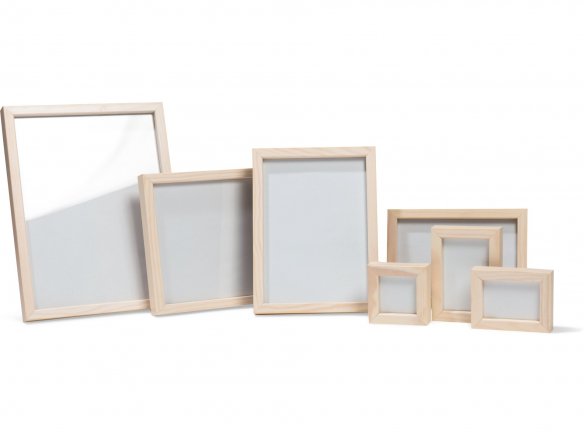 Profile width

12 mm

Profile height

22 mm

Frame sides

stapled

Glass

1,5 mm normal glass

Rear panel

2,2 mm MDF, with flexible metal points

Intermediate cardboard layer

basic paper insert
This mini-frame is a very popular and esteemed frame for use with small works of art, photographs and portraits mainly because of its evenly bright and glazed pinewood. The simple elegance of the mouldings in combination with the natural raw material wood form the basis for the framing of all different kinds of pictures and art works.
While an elaborately designed moulding tends to practically assimilate the a picture´s content or perhaps extends or is in contrast to said content, such a minimalistic and narrow frame profile like that of our mini-frame remains for the most part in the background of the framed art work. It is for this reason that such a frame is perfect for a wall decorated with many pictures and for composed picture displays that one plans on changing many times.
Just as with the mini-frames made with basswood and oak, those made with glazed pinewood can serve as a great basis for photo walls, for sophisticated hanging artworks and for exciting combinations with effective profiles. The mini-frame can not only be hung on walls but can also be simply placed on a table or a sideboard because it is also equipped with a stand-up support.
Mini picture frame, pine, varnished
7 Variants