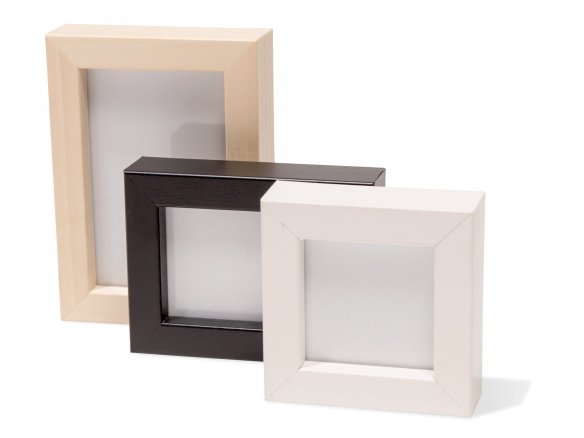 Profile width

12 mm

Profile height

22 mm

Frame sides

stapled

Glass

1,5 mm normal glass

Rear panel

2,2 mm MDF, with flexible metal points

Intermediate cardboard layer

paper
These basswood mini-frames, which come in a natural colour, white and black, are excellent for small sized pictures, flat and delicate paper work and portraits. The different sizes and colours provide the means for making picture walls that are varied and interesting. These picture frames can be hung like a mosaic in different patterns or just randomly - either way they look great. Depending on the picture content they can be combined to create a total picture - again, like a mosaic. The basswook can be painted, covered in tape or other materials and reworked with carving tools to suit your desires.
Mini frame, lime wood, 5 x 7 cm, black, with normal glass and rear panel
9 Variants
50 mm × 50 mm
50 mm × 70 mm
60 mm × 90 mm