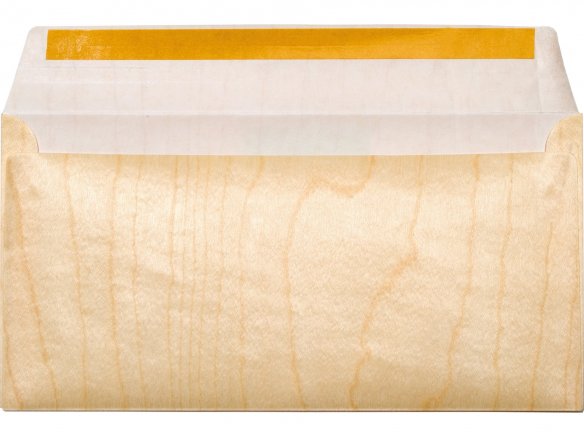 material

made from real wood veneer with paper backing (white paper on the maple, brown on the cedar, cherry and walnut)

Veneer thickness

approx. 0.1 mm

Grain direction

runs parallel to the second given measurement
These envelopes, which are made with real wood, lend a personal note to letter exchanges and bestow upon the recipient an optical as well as a tactile experience (cedar wood has additionally a very pleasant, characteristic aroma that is well known as a result of its being used, even today, as a separator layer and wrapper for top quality cigars). Anyone who uses a luxurious Microwood envelope for sending out advertising materials will definitely attract a lot of attention! The following are particularly good for writing on these envelopes: Pentel-gel rollerball, ballpoint pen. The following pens should not be used: film pen, Edding permament marker. By the way, the envelopes are so lightweight that when filled with an 80 gram A4 sheet of paper there is still no extra expense for stamps. It should, however, be noted that the weights of the envelopes will vary according to the type of wood they are made of. This can lead to higher postage depending on the letter´s contents.
Please note that postage can be higher depending, of course, on the weight and format of the contents. The minimum and maximum postage dimensions and weights can be found under www.deutschepost.de. The official policy of the German post office is to demand higher postage for mail that cannot be machine read like dark or patterned envelopes and plastic covers. In fact, this really only applies to commercial mailings – occasional private customers are usually not charged. Stamped coloured standard envelopes in smaller quantities (up to 5) are accepted by the post office. Business customer mailings in larger quantities must be capable of being sorted in an automated system. For an easy and gratis certification (of suitability) for your envelopes, please contact the post office.
Microwood paper-backed veneer envelope
12 Variants
95 mm x 70 mm
162 mm x 114 mm
230 mm x 115 mm
Note
Wood is a natural product and every envelope made with Microwood veneer is unique, each having its own grain, colouring and structure. Please note that the various types of wood have differing levels of brittleness and their cell structures are by nature also different. The maple and the cherry have surfaces that are the most closed.

The veneer is untreated. This means that the colour tones that it gives off will change according to the angle of the light hitting it, most especially when it is exposed to direct sunlight.