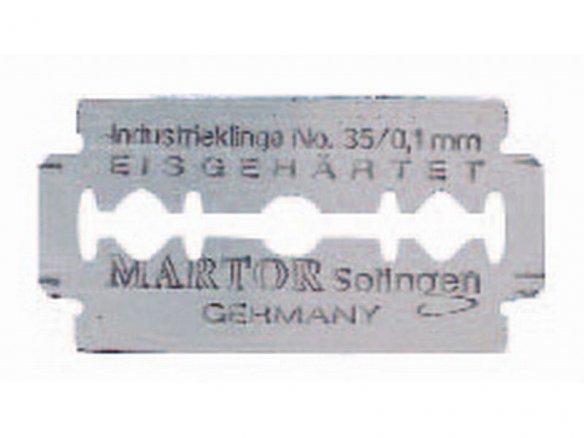 razor blade with punch holes from Gillette
Razor blades are great for making "erasers" (through scratching) on ink and fibre-tip pen markings on transparent paper. In doing so, the blade is held firmly between the thumb and forefinger and pulled back and forth over the paper while being held flat.
Because after this procedure the paper is pretty roughed up - with the effect that any subsequent corrections will to tend to run when applied - the paper must be made smooth by rubbing the flat of a finger nail over it. This smoothing method can be made easier by adding some graphite from a soft pencil to the erased area beforehand and this can then be subsequently removed by means of a soft eraser. The smoothing of the paper can also be done extremely well using the FABER-CASTELL PERFECTION ERASER PENCIL.
Martor razor blade Nr.35, 10 pieces in plastic box, th=0.1 mm