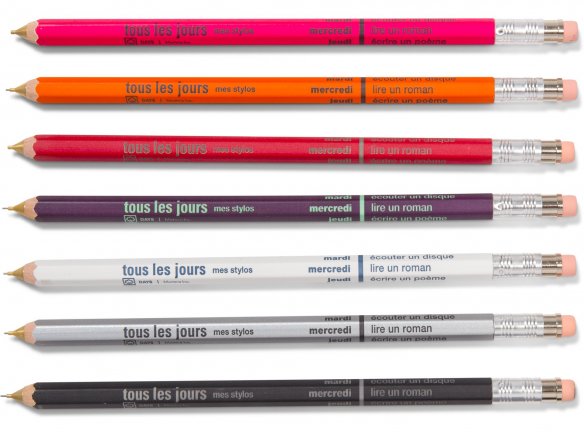 Shaft

lacquered wooden barrel with print ø 8 mm

Accessories

includes lead (ø 05 mm), eraser in the push-button
The Japanese company "Mark" (I agree, it is strange) makes the Tous le Jours model as both a mechanical pencil and a pen – what they have decided to print on them can't help but remind you of grammar school: you are given advice as to what you should undertake on each day of the week: Mondays, watch a movie, Tuesdays listen to an album (should be understood as a CD for the younger set, Ipod for the really young set). Well, at least it's in French! The real point is that these pens have a great look about them, feel wonderful in your hand and produce a somewhat fine line because of their 0.5 mm thick lead – in fact the line is similar in size to the one made by the ballpoint pen version.
When you first look at the pencil you think it is just a classic pencil with an eraser on the top but then it does not have a graphite tip but rather one made of brass out of which the fine lead sticks out after you press the push-button with the eraser integrated into it. The eraser, too, can be removed in order to allow you to refill the pencil with new leads.
Mark's Tous les Jours mechanical pencil
8 Variants