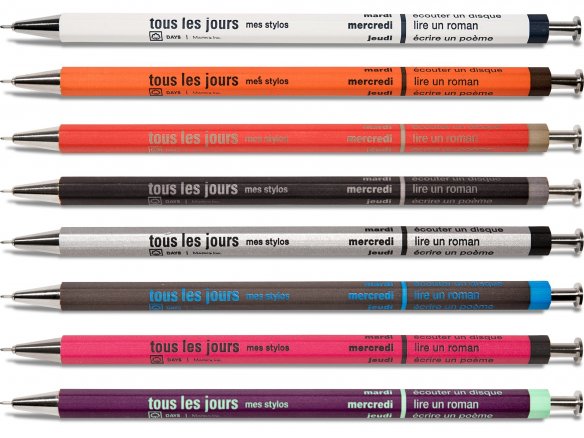 equipment

replaceable standard refill cartridge with metal tip and metal push button

Shaft

painted wooden barrel, ø 8 mm

tip

ø 0.5 mm

ink

waterproof alcohol-based
The chances are very good that a person who is into writing or drawing, assuming that he likes thin fine writing points, will end up loving this ballpoint pen after using it for only a short time. The writing that the Japanese company Mark´s has placed on the barrel of the pen should not be misunderstood or put you off. It is French, for heaven´s sake, and merely makes suggestions as to what one should do on certain days of the week: go to the movies, hear a recording, and so on. Not bad ideas really, But more importantly, the pen looks great, feels great in your hand and produces a wonderfully fine line. It rolls over the paper relatively smoothly and almost never produces an interrupted ink flow in the way many thin writing pens will often do.
There is a matching mechanical pencil so you can have a Tous les Jours set if you want. The pencil, too, produces a very fine line and goes well with the table calendar and notebooks from the Mark´s company.
Mark's Tous les Jours ballpoint pen
7 Variants
Accessories and Related Products